New Hunting Hunter-Fishing Sturdy Portable Tree Seat-Also Deer Drag Deluxe-Holds 400 lbs
Regular price $65.00 $55.00 Sale
EZ Hunter Tree
      Seat and Drag Deluxe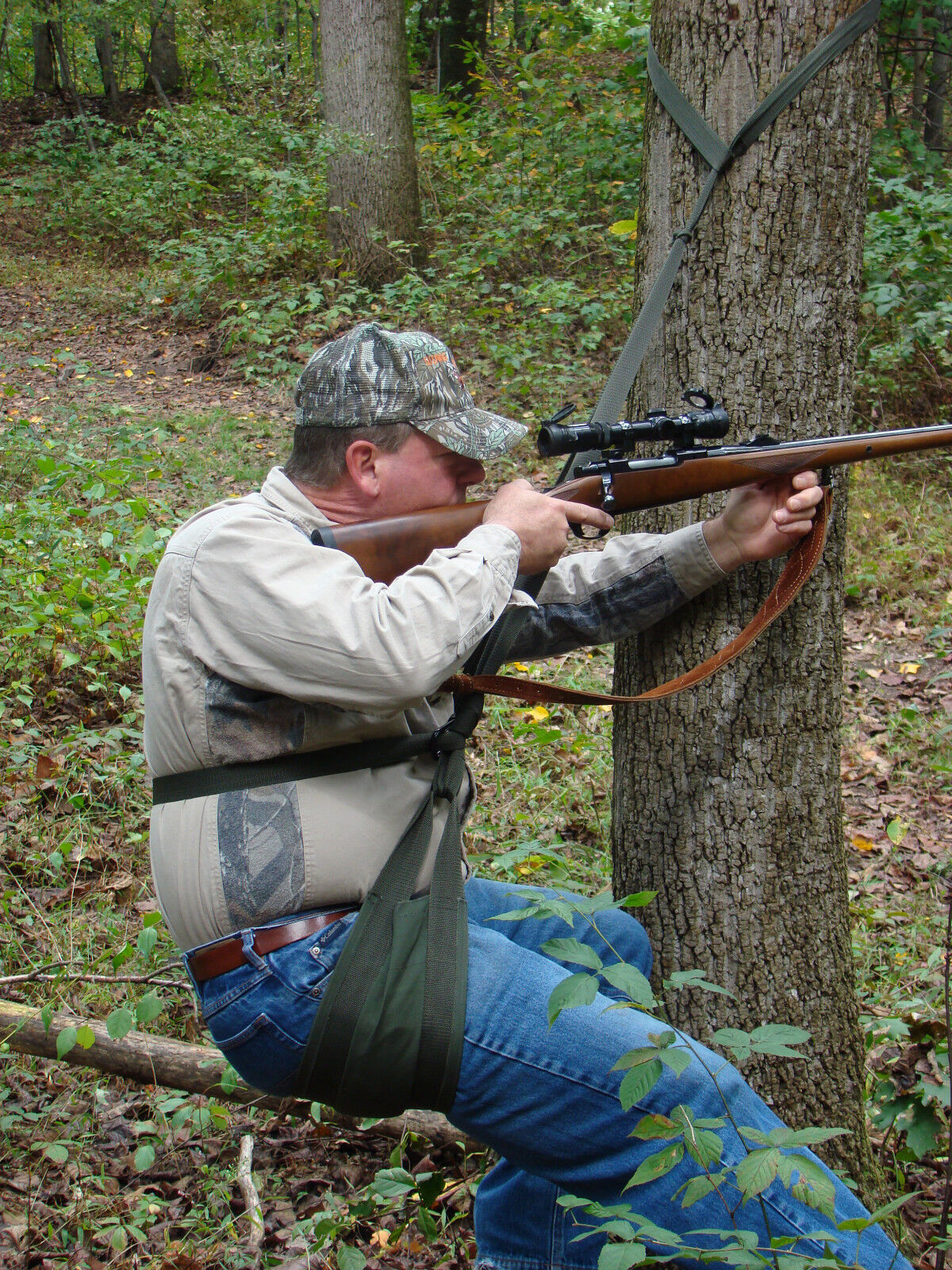 Holds 400 lbs            
Brand new. . . EZ Hunter tree seat.  Extra heavy duty, well made and sturdy, hooks onto tree for Hunters, seat can handle 400 pounds and still fits into your pocket. It has a 2 extension strap belt and 2 caribiner clips for secure hold.  Easy to use, can carry in your pocket when not using, so comfortable as a seat with the tree as your back support.  Many fisherman carry one of these handy seats as well.  Also used by gun hunters, bow hunters, deer hunters, turkey hunters, duck hunters and more.  
You can also use this tree seat as a handy drag for your animal allowing the weight to be distributed evenly across your chest.
           Make this a part of your hunting-fishing gear now.
               See youtube videos for EZ set up and use.
                                                                                                  https://www.youtube.com/watch?v=2SElYyFephw
                                                                                                  https://www.youtube.com/watch?v=DSDbxB7ffvM
Standard Features:
360 degree mobility
Sets up in seconds
Fits 4"-24" diameter trees
400+ pound weight limit
Deluxe Deal Contents:
Sit-Drag with carrying case
2 Extension Strap - for bigger trees/or back support
2 Caribiner Clip
                                                                            ___________________________________
                                            Proper Placement
Hanging your tree stand-seat in the proper location is more than just finding that pinch point or creek crossing the deer favor.  It means that after you find that spot, selecting the right location on the spot.  Hopefully, you will have at least a few trees to choose from within bow range of the trail.  At First, I consider the direction of travel of the deer and look for trees in an area downwind of where the deer will approach.  Secondly, I look for a good sized tree, because I feel more secure in a thick tree and I can better hide against it or behind it depending on how the deer are approaching.  I like a tree at least 3/4 as wide as my shoulders.  Third, I look for a tree that is in a stand of other trees to provide some cover behind me.  One of my favorite tree stand sites is an old gnarled tree that has 5 main trunks coming out of one stump.  It sits on a hillside with an old road bed below it.  I can only get up 10 feet off the ground in this tree, but the deer generally approach from the road bed which is another 4-8 feet below the tree adding some height to my position.  The other tree trunks also provide me great cover once in my tree position.  In addition to the wind you can also use the sun to your benefit by positioning the seat so that a rising sun will be at your back while hunting in the morning.  Deer looking up in your direction will not see you through the glare from the sun.  Similarly, if you have an evening seat, pay attention to the path of the setting sun.
                                    Product Reviews
I purchased my sit drag several years ago.This is the lightest easiest most portable hunting seat I have found to date.I have a bad back and knees so hunting on the ground is out of the question for me.This sling seat stays in my truck because I use it often for fishing our local small ponds,camping and of course for all types of hunting.
I got this to use with a climbing belt and spikes, works pretty good, you can walk around a tree with no problem. Just be sure you know how to climb a tree with spikes, they take some getting used to. I also hook this on my safety belt.
I took the webbing sling off and just use a tree rope strap and a rope bridge. For the money, it's an excellent seat/saddle
                                                                             ______________________________________
Shipping is FREE to the lower 48 US and please allow up to 2 weeks for shipping depending on the State.  No international shipping at this time.
All major credit cards are accepted through authorize.net secure check out system.